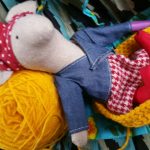 This morning I took a stroll through my new home and found a stash of yarn, beautiful cheese yellow.
There are crochet projects, needles, scissors, everywhere. I'm so happy with all these ideas and possibilities.
Practical things first, I need a bag to travel so these humans can take me with them. It has a pocket so I can put a card in there with my new address in case I ever need it or it gets lost. Of course you don't have to make it exactly the same, make it as nice and funky as you like or keep it nice and simple. I'll post the pattern some other time.
There, that's done. It even has room for a blanket or coat for when it gets cold.